Om man ska hålla på och nöta på naglarna med lack och removers åt höger och vänster är det viktigt att gulla med naglarna också så de förlåter dig.
Ni kanske märker att jag inte inkluderat någon handkräm? Jag är nämligen ingen frekvent handkrämsanvändare. För det första gillar jag inte handkrämskladd för att jag tror att smuts klistrar fast på händerna lättare så jag känner mig smutsig, och för det andra har jag insett att jag verkligen inte behöver handkräm om jag inte använder det för ofta, det är först då händerna börjar torka ut. De oljor jag använder gör sitt, läs vidare för mer info om dem!
Och så glömde jag att ha med min nagellacksremover. Jag använder antingen Gripen Nagellacksremover som finns på Ica Maxi eller den där acetonfria från Lidl.  Båda är bra och kostar under en tjuga.
If you treat your nails bad with polishes and removers all the time it's important to also be very kind to them so that they forgive you afterwards.

You might see that I haven't included a hand cream? I'm not even close to being a frequent hand cream user. First of all I don't like the stickiness because I imagine that dirt sticks to the hands easier and I feel dirty, and second I have realised that I actually don't need hand cream if I don't use it too often, beacause that's when my hands start to dry out. The oils I use are enough, keep reading for more info on them!
And also I forgot to include my nail polish remover. I use Gripen nail polish remover or the acetone free one from Lidl, both are great and super cheap here in Sweden.
Mina naglar i sitt naturliga tillstånd. En aning missfärgade av ohälsosamma mängder lackande, men who cares. Jag älskar nagellack.
My nails at their natural state. A bit stained from crazy amounts of polishing, but who cares. I love nail polish.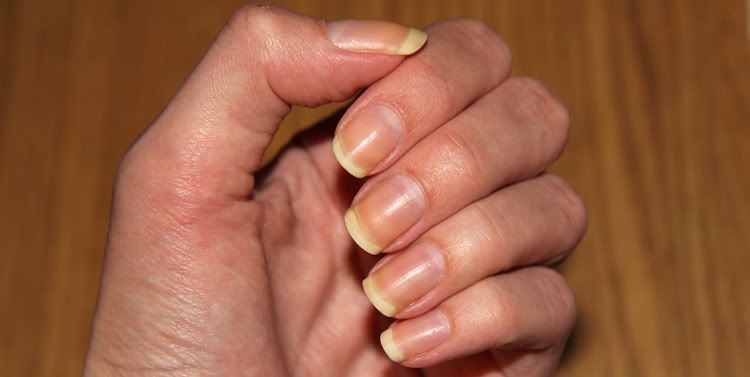 Cold pressed almond oil (+ Weleda Lavender Relaxing Oil)
Dessa oljor har nu nämnts i nästan alla kategorier, men här lite mer flyktigt. Jag smörjer som sagt in kroppen med oljorna varje kväll och därav får händerna sig också en omgång. Mandeloljan har nog små molekyler för att kunna tränga in i naglarna och göra gott där.
I've mentioned these oils in almost every category, but here a bit shorter. As I said I use the oils on my body, so the hands get a go at the same time. The almond oil has small molecules enough to sink down into the nails and do good down there too.
Scratch Nail Food
Lyxoljan! Denna oljar jag in naglarna med varje gång jag tagit bort ett nagellack (och fixat nagelbanden, läs nedan). Så allt som oftast är det var annan eller var tredje dag den åker fram. Om jag inte använde oljan ovan dagligen så skulle jag använda Nail Food dagligen, för olja behöver naglarna för att hålla sig starka och friska. Den innehåller sesam- lavendel- och myrraolja. Kostar 180 kr på Scratch-shop.se, men jag är 99 säker på att den finns på Åhléns också.
My luxury oil! I use this one each time I have removed a polish (and fixed my cuticles, read below). So basically it's every other or third day. If I weren't using the oil mentioned above I would use Nail Food every day, the nails need oil to stay strong and healthy. This one contains sesame lavender and myrrh oil. Not sure if it's available internationally, but I don't think so.
CND Cuticle Eraser
En nagelbandsremover, förbannat bra sådan. Jag använder den efter att jag gått på med nagellacksremovern. A.H.A-syrorna löser upp nagelbandsresterna och gör det lätt att fixa dem snygga. Styr upp nagelbanden så de inte växer över naglarna, kläm ut en dutt nagelbandsremover på varje nagel, smörj in och låt sitta några minuter. Gå sedan på med en torr nagelborste och skrubba, tvätta sedan händerna. Fina klor! Köpte min på Ebay för under hundralappen.
A cuticle eraser, a damn good one. I use it after I've removed my nail polish. The A.H.A. acids dissolves the cuticle residue and makes it easy to clean up. Push the cuticles up so that they don't grow over your nails, massage a dab of cuticle eraser into each nail and let it sit for a couple of minutes. Then use a dry nail scrubber brush thingy and wash your hands. Nice claws! I bought mine on Ebay for less than 10 bucks.
Nail file
Efter att ha slagit sönder min glasfil av misstag så är jag rätt lat och använder vad jag har närmast bara. Se till att fila åt samma håll och inte såga fram och tillbaka om du använder vanliga sandfilar, annars kan du förstöra naglarna.
After breaking my glass file by mistake I'm quite lazy and use whatever I've got close. Make sure to file in the same direction and not zig-zagging back and forth if you use regular sand files, if not you might destroy your nails even more.
Apple cider vinegar
Precis innan jag börjar lacka gnuggar jag naglarna med en bomullstuss dränkt i äppelcidervinäger. Det avfettar dem utan att torka ut dem, alltså sitter lacket bättre.
Right before I start polishing I rub my nails with a cotton bud of apple cider vinegar. That takes away the oils without drying them out, so the polish will adhere better.
Depend Powerflex Nail Strengthener
Första lacket jag lägger är alltid en nagelstärkare. Ett lager över hela nageln och sedan ett tunnare lager över den mest utsatta biten av nageln, tippen. Nagelstärkare innehåller ofta formaldehyd vilket är skitkasst, men denna är fri från det. Kostar 70 kr på KICKS.
The first polish I apply is always a nail strengthener. One coat on the whole nail and a thinner coat on the tip where most of the harm is done. Nail strengtheners often contain formaldehyde which is crazy bad, but this one is free from it. Not sure if/where to get it internationally.
NailTek Foundation II
Sedan kommer underlacket, det bästa jag någonsin testat och troligen lär testa. Det får liksom en seg konsistens som binder fast lacket och gör att det inte kan spricka av och flagna på samma sätt som om du var utan. Det skyddar även naglarna mot att missfärgas av lack. Köpte mitt på Ebay för runt hundralappen om jag minns rätt.
And then it's time for the base coat, the best one I've ever tried and probably ever will try. It gets a kind of.. goopy consistency that binds the polish to the nail and makes it unable to crack off. It also protects your nails from getting stained by polishes. I bought mine on Ebay for about 14 bucks if I remember it right.
Poshé Top Coat
Och här är det mästerliga överlacket som åker på efter valfritt färgat lack. Förut höll jag hårt på Seche Vite Dry Fast Top Coat, men när man gått igenom halva flaskan av det så torkar det ihop lite och börjar krympa när man målar det på naglarna. Det drar ihop manikyren och blottar tipparna så lacket flagar av på typ en dag. Sämst. Poshé har alla fördelar Seche har (torkar jättesnabbt och glänser som glas), men det krymper inte när flaskan börjar sina. Köpt på Ebay, kostade typ hundra spänn det också.
And here's the best top coat I know, that goes on after whatever coloured polish I apply. Earlier I believed in Seche Vite Dry Fast Top Coat, but when you've gone through half the bottle it starts gooping up a bit and shrinks when you apply it on the nails. It shrinks and pulls the manicure together so the tip is free and the polish cracks off in about a day. Sucks. Poshé has all of the pros of Seche (dries super fast and is shiny like glass) but it doesn't shrink. I bought it on Ebay, about 14 bucks here too.