Idag har jag swatchat läpprodukter så läpparna svider. Ont gör det, men det blir ju så himla snyggt och bra i slutändan..
Den första laddningen fina saker jag har att visa er är från det finska sminkmärket MSCHIC, några läppisar och en mascara som de så snällt ville skicka mig! Alla dessa produkter är doft- och smakfria bortsett från glosset. Produkterna finns att köpa på Mschic.com.
Today I've been swatching huge amounts of lip products. My lips are soo sore but it turns out so well in the end..
The first bunch of products I have to show you are from the finnish makeup brand MSCHIC, a couple of lippies and a mascara that they were kind and sent me! All of these are scent/taste free except for the gloss. The products are available at Mschic.com.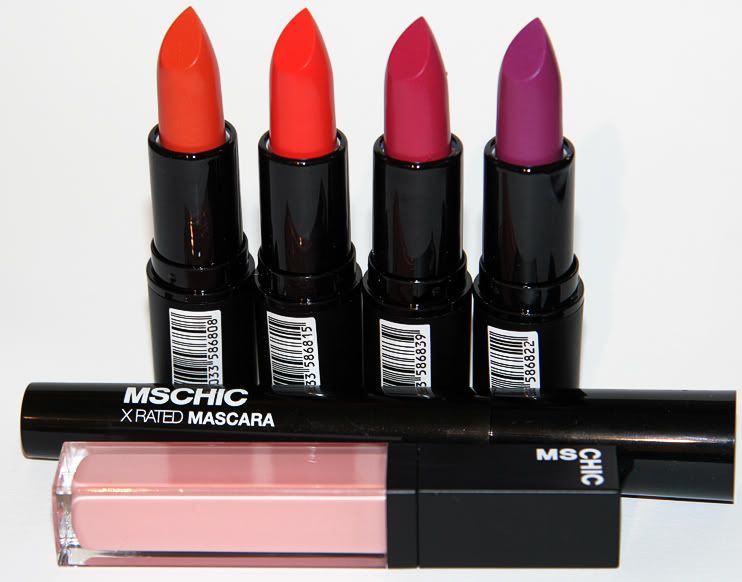 Lip Chic Lipstick – Juicy Orange
Första läppstiftet ut! En glossig varm orange nyans. Den här applicerade lite ojämnt och hade gärna fått vara antingen mer pigmenterad eller lite torrare. Det hade nog hjälpt den på traven, för nu lägger det sig lätt i läpplinjerna. Det är inte ett dåligt stift, men en läppenna eller tunnare applicering är helt klart nödvändigt.
First lipstick out! A glossy warm orange shade. This one applied a bit uneven and I think that it could have been either a bit more pigmented or a bit more dry. That would have helped the formula, now it easily settles into lip lines. It isn't a bad lipstick, but a lip liner or lighter application is definitely needed.

Lip Chic Lipstick – Blood Orange
Nu snackar vi! Blood Orange ligger precis mellan rött och orange, och här är formulan verkligen toppen. Krämig och mjuk och lägger sig inte alls i läpplinjerna som stiftet ovan. Den här är fantastiskt bra! Är du tokig i varma röda nyanser så tycker jag absolut att du ska kasta ett öga på denna.
Now we're talking! Blood Orange lies right between red and orange, and this time the formula is really great. Creamy and soft and it doesn't goop up in the lip lines like the one above. This is just fantastic! If you're crazy about warm reds you should really take a look at this.

Lip Chic Lipstick – Hot Hot Pink
Hot hot? Njaaa, det kan jag nog inte säga. Visst är det en peppig rosa färg, men den drar snarare mot dämpad hallon än "hot hot". Fin färg i vilket fall, inte allt för galen! Inget jag själv hade plockat från butikshyllan, men jag är onekligen glad att  jag nu har den i samlingen. Formulan är bra här också, inte helt fantastisk (jag vet inte om ni kan se att det är lite flammigt på överläppen) men inget att klaga på. Tillsammans med en läppenna blir den en tiopoängare.
Hot hot? Well, I can't really agree to that. It sure is a fun pink shade, but it's rather a muted raspberry than "hot hot". A nice colour anyways, not too crazy! Not a shade that I would have picked in the store myself, but I can't deny that I'm very happy to have it in my collection now. The formula is fine here too, not purely fantastic (I'm not sure if you can see the slight blotchiness on my upper lip) but nothing to complain about. It'll be smokin' paired with a lip liner.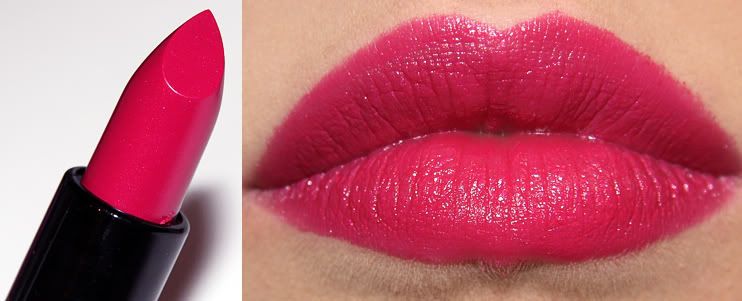 Lip Chic Lipstick – Funky Fuchsia
Behöver jag ens nämna att detta är min favorit? En helt perfekt fuchsianyans, lika lila som den är rosa. Den är lite skirare men applicerar inte ojämnt alls, utan glider på riktigt riktigt fint. Läppstiftskärlek! Shoppa inte MSCHIC utan att kasta denna i varukorgen. Punkt.
Do I even need to mention that this one is my favourite? The perfect fuchsia shade, just as purple as it is pink. It's a bit sheerer in formula but it doesn't apply unevenly, it glides on perfectly. Lipstick love! Don't go MSCHIC shopping without shoving this one in your cart. That's just a fact.

Lip Kiss Lip Gloss – Baby Pink
Läppglanset, doftbomben. Bara av att öppna tuben så stiger ett moln av doft, något de kallar "mjuk vit choklad". Jag tycker att den doftar mer kaffe/kola/nöt/grädde, men då är det kanske min näsa det är fel på. En ganska realistisk ickesyntetisk doft, men är du rädd för doftsatta gloss så håll dig borta. Färgen är blekt babyrosa utan skimmer, den lägger sig lätt i läpplinjerna men över en dutt läppstift eller läppenna kommer den helt klart komma till sin rätta. Fin pigmentering och bra nyans för oss med ljus hy!
The lip gloss, or should I say scent bomb. Just by opening the tube a cloud of scent rises, they call it "soft white chocolate". I would rather say that it smells like coffee/nut/cream/toffee, but that might be just me. Quite a realstic non synthetic scent, but if you're afraid of scented glosses you should stay away. The colour is a pale baby pink without shimmer, it settles in the lip lines but on top of a lipstick or lip liner it'll definitely get some justice. Nice pigmentation and a great shade for us fair skinned!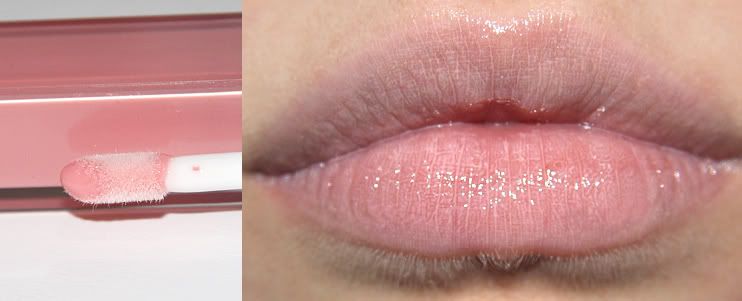 X Rated Mascara
Och sist mascaran, den jag har allra svårast för att bestämma mig kring. En volymmascara med ganska stor borste som verkligen gör under för volym och längd, men den klumpar ihop fransarna rätt rejält. Det känns som att borsten inte riktigt kommer in mellan fransarna utan bara stryker utanpå. Samtidigt vill jag faktiskt påstå att det klumpar sig på ett ganska charmigt vis, det blir ju liksom inte kladdigt och fult, snarare en lite freaky Twiggy-effekt. Ja, denna ska jag helt klart mixtra vidare med och lära känna bättre.
And last one out, the mascara. This is the product that I've had the hardest time forming an opinion about. A volume mascara with quite a big brush that really works wonders on volume and length, but it clumps the lashes together a lot. It feels like the brush can't really get in between the lashes  at all. At the same time I must say that it clumps together in quite a charming way, it doesn't turn ugly and sticky, it's more of a freaky Twiggy lash. Well, this one I'll keep playing with and get to know better.