Jag har haft lite kontakt med Kristy bakom det veganska mineralsminkmärket Pumpkin & Poppy Cosmetics på sistone, och hon ville nu skicka mig skuggorna från hennes julkollektion Christmas in Gotham, inspirerad av filmen Batman Returns i regi av Tim Burton. Givetvis blev jag darrig i knäna av en så fantastisk idé som en Batman-julkollektion (jag älskar Batman) och ännu gladare blev jag när jag idag fick se skuggorna framför mig. Jag hade tänkt vänta med swatchandet tills imorgon, men började förstås tänka "bara eeen.." och det slutade med att jag ohh-ahh-at mig genom hela kollektionen. De är supervackra och långt över förväntan! Bra pigment och fantastiskt vackert skimmer i allihop, mycket baktanke bakom varje nyans och helheten är väldigt välkomponerad. High five P&P.
Jag kan på rak arm säga att det här är min favoritkollektion den här julen, trots alla fantastiska motståndare. Jag har svårt att tänka mig en färgpalett jag skulle tycka bättre om, och det är inget man vill stoppa undan när julen känns passé. Sen att den inte är dyr heller gör ju saken ännu bättre.
Kollektionen är limiterad och går att köpa här. Det finns ett stort set (271 kr) där alla skuggor + ett rött läppglans ingår, eller två små set vid namn Naughty och Nice (101 kr/st) där du får fyra av de åtta skuggorna. De går alltså inte att köpa en och en.
I've had some contact with Kristy behind the vegan mineral makeup brand Pumpkin & Poppy Cosmetics lately, and she wanted to send me the shadows from her holiday collection Christmas in Gotham, inspired by the the movie Batman Returns directed by Tim Burton. Of course my knees got shaky only by the thought of an idea as fantastic as a Batman holiday collection (I love Batman), and I got even happier when I had them in front of me today. I had planned to wait with the swatching until tomorrow, but of course I thought "only oooone.." and then I had ooh-ahh-ed my way through the whole collection. They're so beautiful, even better than I had thought! The pigmentation is great and they're all super beautifully shimmery, much thought behind each shade and the collection is well composed in whole. High five P&P.
I can without a doubt tell you that this is my favourite collection this christmas, even though there are loads of beautiful contestants. I can hardly imagine a colour palette that I would like better, and it's not one of those collections that you want to tuck away somewhere when christmas is over. And of course, also the low price is a great thing.
The collection is limited and it's available here. There's a full set (271 kr) where you get all shadows + a red lipgloss, or two mini sets called Naughty and Nice (101 kr/st) where you get four of the eight shadows. So they aren't available to buy separately.
Cobblepot, Face to Face, Masquerade, Ice Princess
Deadly Kiss, Dark Side, Selina, Red Triangle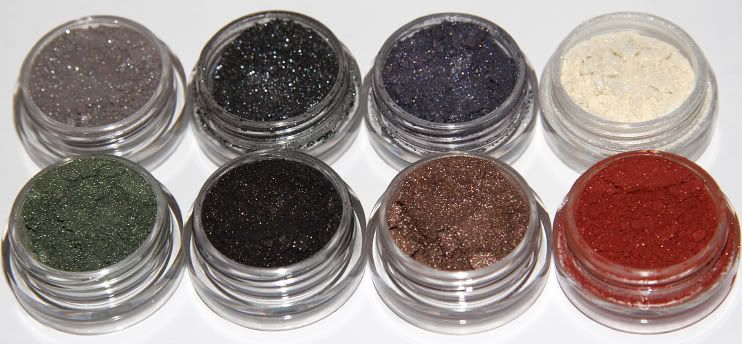 Quick wrist swatch
Cobblepot, Face to Face, Masquerade, Ice Princess
Deadly Kiss, Dark Side, Selina, Red Triangle
Cobblepot, Face to Face, Masquerade, Ice Princess, Deadly Kiss, Dark Side, Selina, Red Triangle