Ni vet vem Makeup Geek-Marlena är? Ja, hon som gör sminkvideos på YouTube. För någon månad sedan släppte hon en serie ögonskuggor, och jag var förstås snabb med att rycka några exemplar efter att ha sett bra recensioner. Men eftersom skuggorna endast kommer i pannform (alltså utan en plastförpackning med snäpplock eller palett, bara metallpannan) så blir man ju tvungen att stoppa dem i något också.. Så då var det dags för en Unii-palett att flytta in hos mig! Nu tittar vi närmre på alltihop!
Skuggorna kostar $5.99 (ca 44 kr) styck på Makeupgeek.com, paletten kostar £15 (ca 170 kr) på Uniicosmetics.co.uk.
You know who Makeup Geek Marlena is, right? You know the chick who does makeup videos on YouTube. About a month ago she released a line of eyeshadows, and of course I had to order some when I had read some good reviews. But because the shadows come in pan form (without a plastic packaging or palette, just the metal pan) you also need to put them into something.. So I thought it was time for an Unii palette to move in with me! Now let's take a closer look at everything!
The shadows are $5.99 a piece at Makeupgeek.com, the palette is £15 at Uniicosmetics.co.uk.
Såhär kommer skuggorna förpackade, i uppvikbara papperskuvert med små fönster. Ja färgerna är ju.. bjärta! Vet inte riktigt vad jag ska säga om dem. Haha. Storleken på pannorna är i alla fall samma som MAC, så de ryms i MAC-paletter om du sitter på sådana.
This is how the shadows are packed, in unfoldable paper envelope thingies with plastic windows. Well, those colours are.. bright! Don't know what to say about them to be honest. Haha. The size of the pans is the same as MAC, so they fit into MAC palettes if you've got empty ones lying around.
Peacock, Sea Mist
Bada Bing, Burlesque, Moondust, Twilight
Stealth, Purple Rain, Wisteria, Fairytale, Unexpected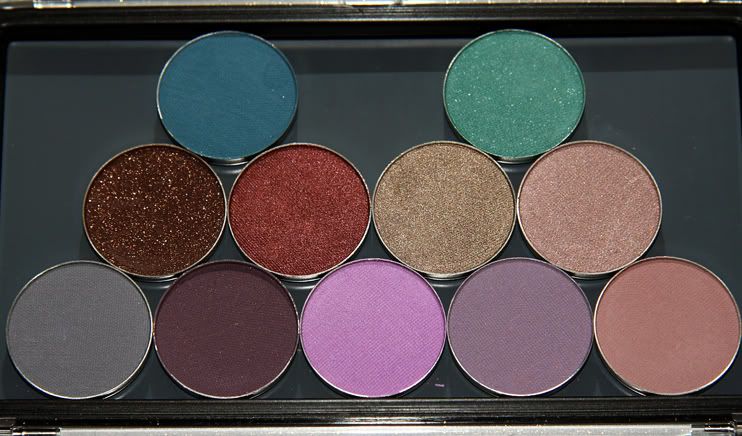 Peacock, Sea Mist, Bada Bing, Burlesque, Moondust, Twilight

Stealth, Purple Rain, Wisteria, Fairytale, Unexpected

Conclusion:
Så vad tycker jag? Jo, jag är nöjd! Vill inte påstå att jag är frälst, men det är helt klart fina skuggor! Moondust, Twilight, Purple Rain och Unexpected är fantastiska färger, Stealth är bäst pigmenterad av alla. Wisteria skulle se riktigt fin ut över en vit bas och Bada Bing förlorade tyvärr mycket av sitt fina glitter. Skuggorna har inte en formula som tar andan ur mig, men inget våldsamt smulande och krittorra skuggor man bara vill grina över heller. Tror att de är en rätt så bra investering för vem som helst såvida nyansutbudet känns lockande.
So what do I think? Well, I'm satisfied! I can't say that I'm getting religious over them, but they are nice! Moondust, Twilight, Purple Rain and Unexpected are fantastic colours, Stealth has the best pigmentation. Wisteria would look really pretty over a white base and Bada Bing sadly lost quite a lot of its pretty glitter. The formula on these shadows won't take my breath away, but definitely no chalky messy stuff that you want to cry over either. I think that these would be interesting for anyone who likes the range of shades.
And what did I put the shadows in? Heelloo Unii!
Skuggorna stoppade jag i Unii-paletten som jag nämnde allra först i inlägget. En stadig liten palett med ordentlig snäppanordning, skitbra för resa, betydligt stadigare än MACvarianten! I paletten kan du stoppa alla möjliga skuggor och rouge bara de är i metallpanna (sök "how to depot eyeshadows" på YouTube om du vill lära dig hur man får ut dem ur förpackningen). Det går att knöka ner 14 MAC-skuggor i paletten om den storleksjämförelsen säger dig något. Med paletten följer ett litet magnetark som du kan klippa till i rätt storlek och klistra fast under metallpannorna om du inte har sådana som redan har magnet i sig, Unii har tänkt ett steg i förväg, jag gillar't! Paletten finns i flera olika färger, jag valde den svarta som heter Midnight, den visade sig vara jätteglittrig (som om det syntes på bilden? suck) vilket jag inte var beredd på, men vem gillar inte glitter?
I put the shadows in the Unii palette which I mentioned early in this post. A sturdy little palette with a good snap closing, so good for travel, feels much more secure than a MAC palette! In this palette you can put any shadow or blush that's in it's metal pan (search for "how to depot shadows" on YouTube if you want to learn how to take it out of the packaging). You can fit 14 MAC shadows in the palette if that comparison says anything to you. You also get a magnet sheet that you can cut into the right size and stick to the bottom of your metal pans in case they aren't magnetic already, Unii thought one step ahead, I love that! The palette comes in many different colours, I ordered the black one called Midnight which turned out to be very glittery (as if it showed up in the picture? sigh) which was kind of a surprise, but who doesn't like glitter?