Ok, här är en manikyr jag hade big time trouble med att fotografera, antingen blev färgen på lacket helt skev eller så dog glittret. Valde till slut det andra alternativet, så ni får en närbild på accentnageln istället,ni får pussla ihop bilderna i huvudet! Ja, eller så kollar ni på den skitdåliga webcambilden istället. Tragiskt nog ger nog den allra mest rättvisa den här gången.
Basfärgen är 248 från Depend, en mjuk persikonyans med jellyfinish. Har hört många klaga om att lacket kräver upp mot fyra lager för att se bra ut, men på dessa bilder har jag två och tycker att det ser bra ut, särskilt i verkligheten. Men då målar jag nog ganska tjockt också.
Glittret på ringfingernaglarna är Vitamin C från Lit Cosmetics (bild på glittret finns här!) i storlek 3 alltså finmalet. Lit Cosmetics glitter är kosmetiska, det betyder att de är ögon/läppsäkra och kan användas överallt  utan att bli farliga på något vis. Köper du glitter i hobbybutiker så är de gjorda av plast och/eller metall, vilket är jättevasst och farligt för ögonen. Så se till att du köper kosmetiskt glitter om du ska använda dem i sminkningar. Lite off topic sådär, men det är verkligen värt att nämna en tusende gång.
Okay, here's a manicure I had big time trouble taking pictures of, either the colour of the polish screwed up or the glitter ultra died. At last I chose the second alternative, so you get a closeup of the accent nail instead, puzzle the pictures together in your heads! Well, or take a look at the crappy webcam pic instead. It is quite tragic, but I guess that one gives the manicure most justice this time.
The base colour is 248 from Depend, a soft peachy shade with a jelly finish. I've heard many people complain about the fact that they need up to 4 coats to make this look good, but in these pictures I'm wearing two coats and I think that they look good like this, especially in real life. But I guess I apply quite thick coats too.
The glitter on my ring finger nails is Vitamin C from Lit Cosmetics (there's a picture of the glitter over here!) in size 3 so it's quite fine. Lit Cosmetics glitters are cosmetic glitters which means that they are eye and lip safe and can be used everywhere without getting dangerous. If you buy glitter at the craft store those are made of plastic or metal which is very sharp and really dangerous to get in your eyes. So make sure to get cosmetic glitters if you want to wear them in makeup. Quite off topic, but it's very important and worth mentioning a millionth time.
Och här är en närbild utan blixt. SÅHÄR ser glittret ut! Ett mjukt persikoorange glitter med en lätt regnbågskänsla. Jag ällllskar det, måste ha det på ögonen snart någon dag..
And here is a closeup without flash. THIS is what the glitter looks like! A soft, peachy orange glitter with slight rainbow feel. I luuuvv this, must wear it on my eyes soon..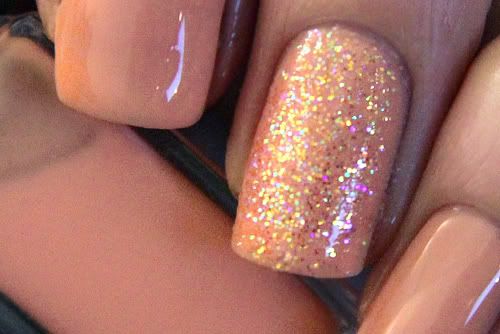 Ser ni? Till och med min webbkamera var bättre på att fånga mjukheten i den här manikyren.
See? Even my webcam was better at capturing the softness of this manicure.