Jag har uttryckt min kärlek för Illamasquas läppstift många gånger förr (för hela märket för den delen!), och idag tänkte jag visa er min lilla samling. Produkterna är rätt dyra så det är absolut inget hetssamlande, men jäklar vad underbara de är, och jag lovar att de successivt blir fler. Här kan du shoppa Illamasquas läpprodukter. Och vill ni se mina rouge från Illamasqua så kan ni kika här.
Läppstiften har en lite egen konsistens, de är torra och "strama" att applicera men ändå krämiga på något vis. Vaxiga liksom! De finns i en uppsjö fantastiska färger (inte en tantbrun så långt ögat kan nå!), de flesta nyanserna är matta vilket jag föredrar framför skimmer, alla är sanslöst högpigmenterade och sitter superlänge på läpparna utan att blöda i kanterna, på alla punkter exakt vad jag vill få ut av ett läppstift! Vissa är torrare än andra (typ Disciple) men det är inget jag är särskilt grinig över. Hellre för torrt än för kladdigt när det gäller intensiva färger, man kan alltid bära läppbalsam under eller gloss över om man behöver/vill.
I've expressed my love for Illamasquas lipsticks many times before (well, for the whole brand to be honest!) and today I thought I should show you my little collection. The products are quite expensive so there's definitely no stress collecting going on, but damn they're wonderful, and I promse you that there soon will be more. You can bathe in Illamasqua lippies here. If you want to take a look at my Illamasqua blushes too you can do it here.

The lipsticks have a quite strange consistency, they're dry and "draggy" on the lips but still creamy in a way, waxy or something! They come in a bunch of pretty colours (no old lady browns available! Wohoo!), most shades are matte which I prefer to shimmers, all of them are insanely pigmented and they stay on the lips for a very long time without bleedning around the edges, which in all is what I ask from a lipstick! Some are drier  than others (like Disciple) but I'm not whining over it. I prefer lipsticks that are a tad too dry than a tad too smudgey when it comes to intense colours, you can always wear a lipbalm underneath or gloss on top if you need/want to.
Scandal, Box, Kontrol, Disciple, Apocalips. (you can find Box and Apocalips in the new Human Fundamentalism collection!)

Illamasqua Lipstick in Kontrol on my lips.

Illamasqua Lipstick in Scandal on my lips.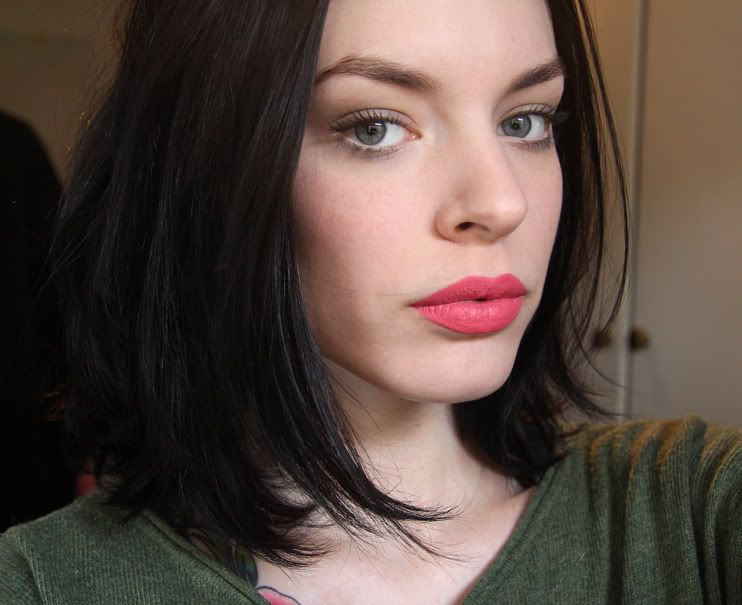 Illamasqua Lipstick in Box on my lips.

Illamasqua Lipstick in Apocalips on my lips.

Och här är mina tre läppglans! Läppglansen kommer i två utföranden, Intense och Sheer, båda med en väldigt lätt söt doft och i likadana (snygga) klämtuber. Intense-formulan är heltäckande och du behöver inte ens tänka tanken att ha ett läppstift under, de går på superpigmenterat och täcker allt du målar dem över. Sheer-glossen är mer som traditionella gloss och ger ett halvtäckande resultat, ser alltså snajsigare ut över läppstift. Glossen är ganska klibbiga, och de har SERIÖS hållbarhet på läpparna. Jag kan bära dem många timmar utan omapplicering. Lily Rose är min favorit, den är så fint godisrosa på läpparna.
And here are my three lipglosses! The glosses come in two variations, Intense and Sheer, both with a very light sweet scent and in the same (nice) squeezy tubes. The intense formula is full coverage and you don't even have to think about wearing a lipstick underneath, they are so pigmented they cover anything you paint them on top of. The sheer glosses are more like traditional glosses and gives a semi opaque coverage, so it looks better on top of lipsticks. These glosses are quite sticky, and they have some SERIOUS staying power on the lips. I can wear them for many hours without reapplying. Lily Rose is my favourite, it's got such a pretty candy pink colour on the lips.
Intense Lipgloss Hectic, Indulge, Sheer Lipgloss Lily Rose

Illamasqua Sheer Lipgloss in Lily Rose on my lips.