Here's my halloween look from last year, copy-pasting my old blog post right in here! I hope you find it inspiring.
I lördags firade jag halloween med några vänner, en vecka tidigt, vilket ju är skitbra inspiration för er som inte firat ännu!
Jag körde på en klassisk mumie-look med skulpterad blek hy, lite dammig spindelväv i ansiktet och tusen meter tyg lindat runt kroppen. Jag har tyvärr inte orken/tiden att göra en tutorial på makeupen, men det är väl egentligen bara såhär jag gjort:
1. Vit flytande foundation blandat med en skvätt av min vanliga foundation i ansiktet.
2. Pudra ansiktet med en vit ögonskugga.
3. Skulptera fram kindben, ögonhålor osv. med svart matt skugga.
4. Lägg till dimension och färg med hjälp av en mörkbrun, lila och senapsgul matt skugga.
5. Damma över solpuder för att ge lite mer "ökenlook".
6. Sätta fast spindelnätet med hårnålar, pudra mängder löspuder över som damm, och sedan lindar du in dig i trasor.
This saturday I celebrated halloween with some friends, a week too early, which is awesome inspiration for you who haven't celebrated yet!
I went for a classic mummy look with a sculpted pale complexion, some dusty spiderwebs on my face and like a thousand metres of cloth wrapped around my body. Sorry but I haven't got the energy/time to sit down and do a tutorial for the makeup but this is basically what I did:
1. White liquid foundation mixed with a dab of my regular foundation on my face.
2. Powder my face with a white eyeshadow.
3. Sculpt cheekbones, eye sockets and such with a matte black shadow.
4. Add some dimension and colour with a dark brown, purple and mustard yellow matte shadow.
5. Dust some bronzer on for that "desert look".
6. Add the spiderweb with bobby pins, powder loads of loose powder on top as dust, and then wrap yourself up with cloth.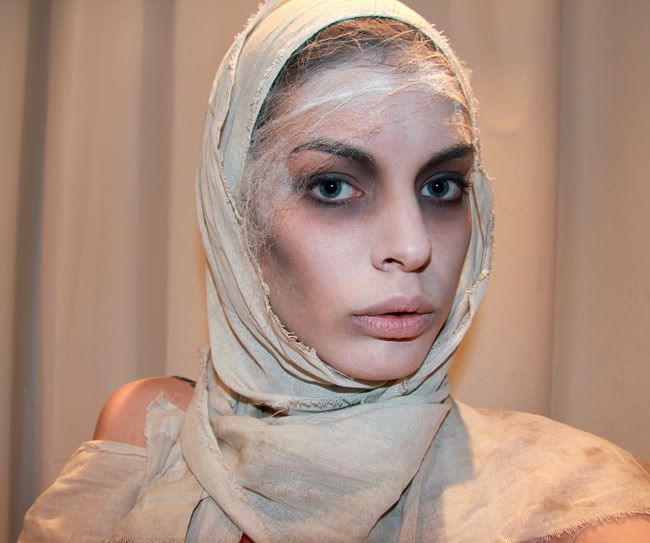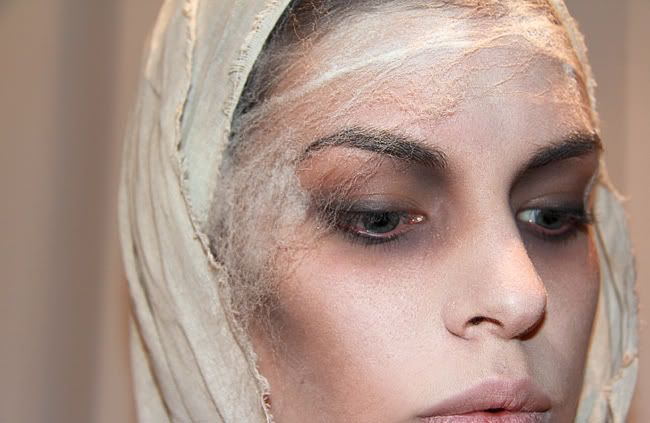 Trasorna är en gammal gardin jag rivit upp och färgat med utspädd hårfärg och kanel för en smutsig look.
The cloth is an old curtain that I ripped up and dyed with diluted hairdye and cinnamon for a dirty look.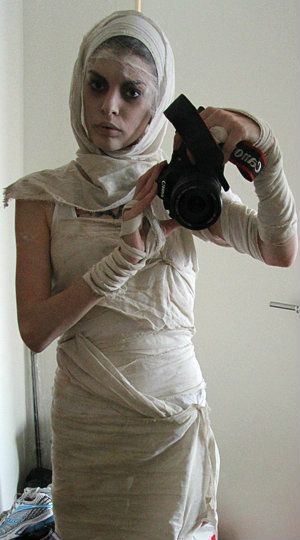 Såhär såg naglarna ut. Någon nudefärg (minns inte vilken) med fakeblod målat längs nagelbanden. Blodet är gjort på mjöl, soja och rödbetsspad.
This is how my nails looked. Some nude colour (don't remember which) with fake blood along my cuticles. The blood is made of flour, soy sauce and beetroot juice.
Lite av mitt fantastiska sällskap för kvällen, Emma (jag sminkade henne också!) och Moa.
Some of my wonderful company for the night, Emma (I did her makeup too!) and Moa. Fab!