Hur konstigt det än må kännas så börjar 2012 lida mot sitt slut. Så det är dags att sätta en rosett på året med att lista mina produktfavoriter, 2012 edition!
Om du vill se något i användning så klicka på "Om bloggen" under headern så sidebaren plopppar ner, använd sökfunktionen där. Förhoppningsvis har jag skrivit något om det du söker! Fyll gärna i listan själv och skicka mig en länk så jag får läsa om dina favoriter.
How strange it ever might feel, 2012 is coming to an end. So it's time to wrap the year up with a long favourites list! So here they are, my favourites of 2012!
If you want to see the products used, click "Om bloggen" underneath the header so the sidebar pops down, then use the search function there. Hopefully I've written something about what you're searching for! Also fill the list in yourself if you feel like it, and send me a link so I can read about your favourites!
Skincare, perfume & hair products
Cleanser:  Dr. Woods Tea Tree Castile Soap
Peeling: Dermalogica Daily Microfoliant
Mask: Kiss My Face Potent & Pure Pore Shrink Deep Cleansing Mask
Eye makeup remover: Almond oil
Serum: Bioline Primaluce Exforadiance Exfoliating Illuminating Serum 15%
Day cream: Aloe vera gel + Egyptian Magic (70/30)
Night cream: Aloe vera gel + Egyptian Magic (30/70)
Eye cream: WiseWays Herbals Camellia Eye Cream
Lip balm: Bi Mat Cay Lip Balm
Sunscreen: Earth Science Almond-Aloe Vera Moisturizer SPF 15+
Shower gel: Yves Rocher Jardins du Monde Gardenia
Body lotion: South of France Body Lotion Pure Gardenia
Hand cream: Kneipp Handcreme Aloe Vera
Fake tan: Åhléns Brun Utan Sol
Body scrub: Phenomé Pure Sugarcane Nourishing Deeply Sweet Scrub
Deodorant: DeoNat Aloe Mineral Deodorant Stick
Shampoo: LUSH I Love Juicy Shampoo
Conditioner: LUSH Veganese Conditioner
Hair mask: Unite Volumizing Repair
Dry Shampoo: Lernberger Stafsing Dryclean
Styling product: Oribe Creme for Style
Allround product: Aloe vera gel
Perfume day: Yves Rocher Moment de Bonheur
Perfume night: Frederic Malle Portrait of a Lady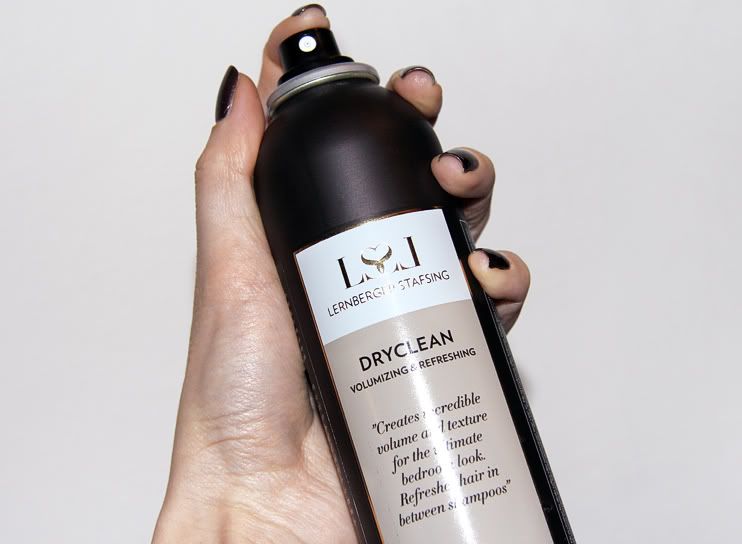 Nail products
Red: Illamasqua – Scarab
Pink: China Glaze – Sugar High
Purple: Depend – 316
Blue: Nails Inc. – Baker Street
Turquoise: Illamasqua – Nomad
Green: Illamasqua – Smash
Yellow: China Glaze – Happy Go Lucky
Orange: OPI – A Roll in the Hague
Nude: Deborah Lippmann – Naked
Black: Jade – Magia
White: Lime Crime – Milky Ways
Base coat: Nailtek Foundation II Ridge Filling Base Coat
Topcoat: Poshé Super-Fast Drying Topcoat
Strengthener: Trind Nail Repair Natural
Nail care: Scratch Nails Nail Food Oil
Cuticle care: CND Cuticle Eraser
China Glaze Sugar High, Illamasqua Nomad

Makeup Products:
Primer face: Too Faced Primed & Poreless Skin Smoothing Face Primer
Primer eyes: Too Faced Shadow Insurance
Liquid foundation: Sleek MakeUP New Skin Revive Foundation – Oatmeal
Powder foundation: Meow Cosmetics "Purrrfect" Mineral Foundation – 1-Sleek Bengal
Tinted moisturizer: Laura Mercier Tinted Moisturizer SPF 20 – Porcelain
BB cream: Sleek MakeUP Be Beautiful Blemish Balm – Fair
Concealer: Too Faced Absolutely Flawless Flexible Cover Concealer – Vanilla
Loose face powder: Silk Naturals Vegan Perfection Powder
Pressed face powder: MIYO Doll Face Compact Powder – Vanilla
Powder blush: Illamasqua Powder Blusher – Naked Rose
Cream blush: Illamasqua Cream Blusher – Zygomatic
Highlighter: Meow Cosmetics Mineral Eyeshadow – Prophecy
Bronzer: Too Faced Chocolate Soleil Bronzer – Milk Chocolate
Mascara: Oriflame Hyper-Stretch Mascara
Eye pencil: Illamasqua Medium Pencil – Vow
Cream/gel/liquid/powder eyeliner: Inglot Eyeshadow – 376
Eyebrow product: Illamasqua Brow & Lash Gel
Eyeshadow single: INGLOT Eyeshadow – 376
Eyeshadow palette: Sleek MakeUP i-Divine Palette – Au Naturel
Eyeshadow loose: Meow Cosmetics Mineral Eyeshadow – Prophecy
Lip pencil: Too Faced Perfect Lips Lip Pencil – Perfect Nude
Lipstick: Benecos Lipstick – Pink Honey
Lipgloss: Jane Iredale PureGloss Lip Gloss – Gold Fling
Sleek MakeUP Au Naturel, Meow Cosmetics Prophecy

Makeup brushes
Foundation: Real Techniques Expert Face Brush
Concealer: EcoTools Smudge Brush
Powder: Real Techniques Blush Brush
Bronzer: Everyday Minerals Tapered Sculpting Face Brush
Face highlighter: Illamasqua Highlighter Brush
Blush: EcoTools Blush Brush
Eyeshadow lid: Real Techniques Base Eyeshadow Brush
Eyeshadow crease: Sigma Mrs. Bunny E40
Eyeshadow highlight: Everyday Minerals Eye Smudge Brush
Smudge/detail: Real Techniques Accent Brush
Eyeliner: Everyday Minerals Angled Brow & Liner Brush
Brows: Everyday Minerals Angled Brow & Liner Brush
Lips: Sigma L05