Star tattoo on her left ribs.
There has been a lot of bad talk about this, since she's only 15.
But in my opinion, i think it's great that she is who she is, and she's true to herself. If a tattooed smoking girl at the age of 15 is who she is, then so be it. Can't change yourself to fit what other people want you to be.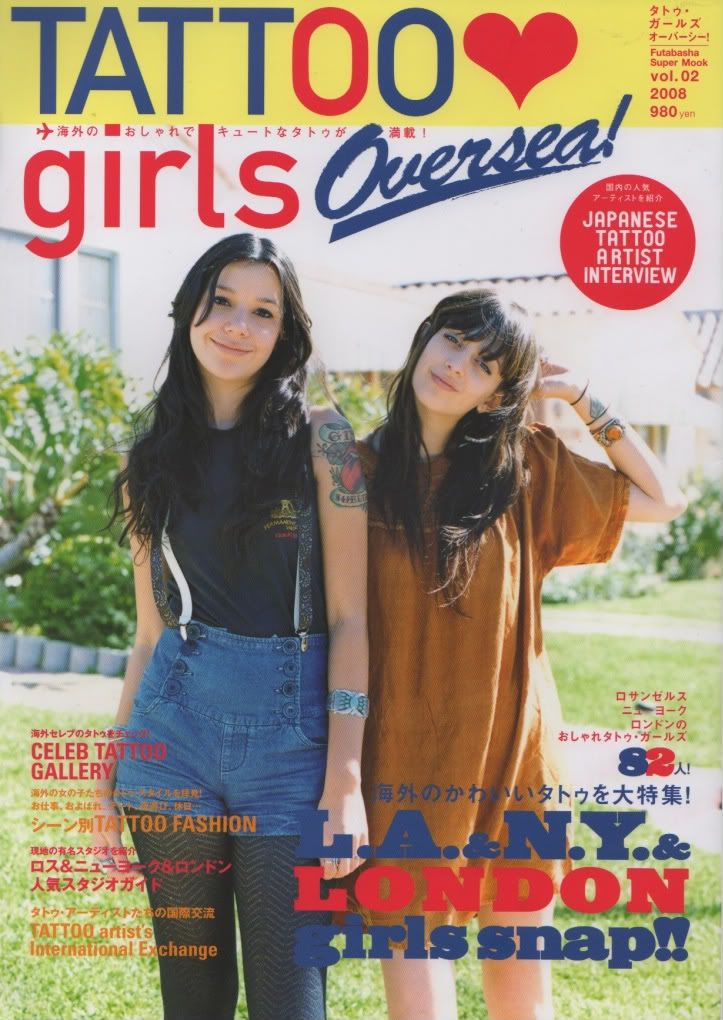 I know i haven't been posting very regularly, exams are to blame.
But i thought I'd share with you guys a magazine that I learned about when i first got my tattoo.
It's Japanese (and nope, i can't read a word of it) but i absolutely LOVE this magazine. The magazine is called 'Tattoo Girls'. It's basically a magazine that takes photos of girl's tattoos on the street and asks them about their tattoos etc. I love the magazine because it's full of a wide range of tattoos.
And we all know one good method to coming up with a tattoo is seeing what is out there and to get some inspiration
I recently bought the 'overseas' edition, meaning it was all about tattoos in LA, NY and London!
Here are a few scans (i apologize for the bad quality)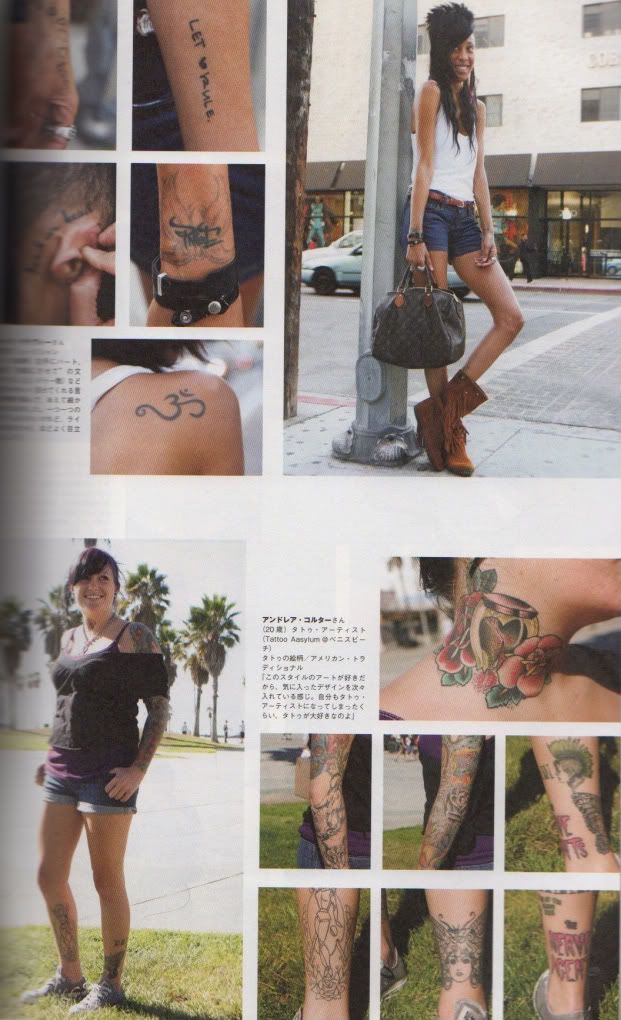 Okay guys, as i'm sure you've heard (if not, referring back to LL's post), Lindsay recently got a new tattoo of a Marilyn Monroe quote that says 'Everyone's a star and deserves the right to twinkle'.
I have finally found a picture of it.
It's not a great picture, but i'm sure better ones will surface soon.
I like the quote, but i don't think it was the right placement, and I'm not all that into the red and yellow stars around it either…
but that's just me

i still like her other ones.
Kate moss – 'P' tattoo on her hip for Pete Doherty.
Peaches Geldof – 'Max' on her left wrist for Max Drummey
Victoria Beckham – 'DB' on left wrist for David Beckham
Heidi Klum – 'Seal' on her right forearm for Seal
Angelina Jolie – 'Billy Bob' on her left shoulder (gone now) for her short marriage to him.
A few pictures of tattoos devoted to another.
I'll properly add more later.
So, tattooing the name of a spouse, boy/girlfriend etc., is it a do or a don't?