It's my birthday today so I might not be blogging as often as usual today.
But I wanted to thank you all again for reading and supporting the blog. It means the world to me!
I thought I'd do this post even though it isn't tattoo related because quite simply I love blogs. I love blogging and I like reading blogs, I follow hundreds.  I follow all of the big ones that everyone has heard of (fashiontoast, carolines mode etc.)
But I'm always on the look out for new ones that aren't as big yet. There are so many blogs now that it is really hard to get your voice heard sometimes. So I thought I'd share with you my three recent finds that I've been following that you may not have come across (yet).
They all reflect the style that I am into, simple, no fuss but chic.
1. Andy Heart
2. Modern Legacy
http://modernlegacy.blogspot.com/
3. Feathers and Fringing
http://feathersandfringing.blogspot.co.uk/search/label/outfit
Ivania is the blogger from Love Aesthetics.  I've been following her blog for a long time now, probably one of my first few.  I'd say her blog is truly unique.  She recently posted a picture of her boyfriend's tattoo. I just had to show it to you guys.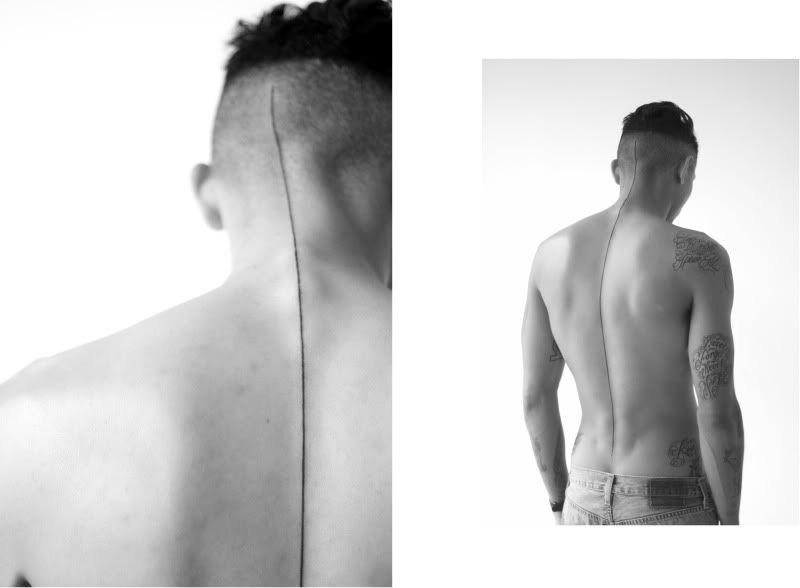 source: Love Aesthetics
I'll be hanging around Somerset House courtyard during London Fashion Week taking pictures of people and their tattoos.
Location: Somerset House courtyard, London
Date: Sunday 16th September
Time: 13:00-15:00
I'd love to see you there!
source:
Ronja (Sundsvall, Sweden)
Charlotte (France) "Just a little heart, for the people i love the most."
Helene (Sala, Sweden) "My star sign. Stand for hope and survival."
source:
Noora (Finland) "My first tattoo. This sentence means me very much. It has been difficult to me to trust that I am good enough like I am."
Pascalle (Canada) "Just had my first tattoos done on my birthday this past week. A small heart on my foot, and 2 tiny stars on my right side, ribs. The stars represent my 2 Special Little Stars, my sons, ages 5 and 1. The tattoos were painful, but like childbirth, worth every single minute of pain…"
SIlvia (Florence) ""Ad Maiora" is translate literally as "Towards greater things". It is a formula of greeting used to wish more success in life, career or love."
source:
Isabela (Vila Velha, ES, Brasil)
Kelly (Morganton) "The four birds represent my mom, 2 sisters, and i. We are all free spirited and we all "fly together". I love it!"
Miriam (Barcelona) "Is my favorite number on the back, with four points dedicated to my family."
Hi Guys!
If you have any bloggers you'd like me to interview about their tattoos please email me at naridyard@gmail.com or leave a comment to let me know who!
I've also started a personal project of mine.
source:
Marie (Denmark) "Always wanted this tattoo, finally got it."
Leina (Chicago) "a tiny crescent moon because i am a night owl"
Ida Z (Borlänge)
source:
Alessandra (São Paulo, Brazil) "Hamsa and happiness"
Paola Edwards (Skiatook, OK) "" We have this hope as an anchor for the soul, firm and secure. It enters the inner sanctuary behind the curtain, where our forerunner, Jesus, has entered on our behalf." Hebrews 6:19″
Izabela (Brazil)